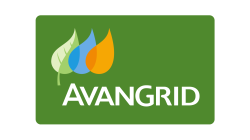 Avangrid Inc (NYSE:AGR) announced a quarterly dividend on Tuesday, December 4th, Wall Street Journal reports. Stockholders of record on Tuesday, December 11th will be given a dividend of 0.44 per share by the utilities provider on Wednesday, January 2nd. This represents a $1.76 annualized dividend and a dividend yield of 3.47%. The ex-dividend date of this dividend is Monday, December 10th.
Avangrid has a payout ratio of 76.9% indicating that its dividend is currently covered by earnings, but may not be in the future if the company's earnings decline. Equities research analysts expect Avangrid to earn $2.47 per share next year, which means the company should continue to be able to cover its $1.76 annual dividend with an expected future payout ratio of 71.3%.
Shares of Avangrid stock traded down $0.09 on Tuesday, hitting $50.78. The stock had a trading volume of 770,874 shares, compared to its average volume of 486,400. Avangrid has a 52-week low of $45.17 and a 52-week high of $54.55. The company has a debt-to-equity ratio of 0.33, a quick ratio of 0.59 and a current ratio of 0.67. The company has a market capitalization of $15.57 billion, a P/E ratio of 23.08, a PEG ratio of 2.55 and a beta of 0.15.
Avangrid (NYSE:AGR) last posted its earnings results on Tuesday, October 23rd. The utilities provider reported $0.45 earnings per share for the quarter, missing the Thomson Reuters' consensus estimate of $0.46 by ($0.01). Avangrid had a net margin of 6.29% and a return on equity of 4.55%. The firm had revenue of $1.55 billion during the quarter, compared to analysts' expectations of $1.32 billion. During the same period in the previous year, the firm posted $0.40 earnings per share. The firm's revenue for the quarter was up 15.3% on a year-over-year basis. As a group, analysts forecast that Avangrid will post 2.27 earnings per share for the current year.
Several research firms have recently weighed in on AGR. Zacks Investment Research raised Avangrid from a "sell" rating to a "hold" rating in a report on Monday, October 29th. Citigroup reduced their target price on Avangrid from $59.00 to $57.00 and set a "buy" rating for the company in a report on Tuesday. Wells Fargo & Co boosted their target price on Avangrid from $54.00 to $55.00 and gave the company a "market perform" rating in a report on Monday, September 17th. TheStreet raised Avangrid from a "c+" rating to a "b" rating in a report on Wednesday, November 14th. Finally, Wolfe Research downgraded Avangrid from a "peer perform" rating to an "underperform" rating in a report on Monday, August 13th. Two equities research analysts have rated the stock with a sell rating, five have given a hold rating and five have given a buy rating to the stock. The stock presently has a consensus rating of "Hold" and an average target price of $53.78.
TRADEMARK VIOLATION NOTICE: "Avangrid Inc (AGR) Announces $0.44 Quarterly Dividend" was published by Fairfield Current and is the property of of Fairfield Current. If you are viewing this article on another site, it was illegally copied and reposted in violation of international trademark and copyright law. The legal version of this article can be accessed at https://www.fairfieldcurrent.com/news/2018/12/04/avangrid-inc-agr-announces-0-44-quarterly-dividend.html.
About Avangrid
Avangrid, Inc operates as an energy services holding company in the United States. It engages in the generation, transmission, and distribution of electricity, as well as distribution, transportation, and sale of natural gas. The company also develops, constructs, and operates renewable energy generation facilities primarily using onshore wind power, as well as solar, biomass, and thermal power.
See Also: Stop Order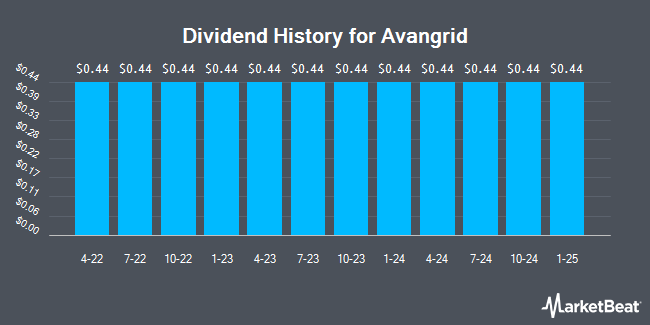 Receive News & Ratings for Avangrid Daily - Enter your email address below to receive a concise daily summary of the latest news and analysts' ratings for Avangrid and related companies with MarketBeat.com's FREE daily email newsletter.