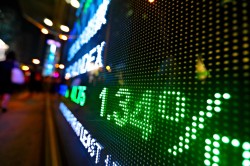 TheStreet upgraded shares of Formula Systems (1985) (NASDAQ:FORTY) from a c+ rating to a b- rating in a research report released on Wednesday, February 27th.
Shares of NASDAQ:FORTY opened at $42.00 on Wednesday. The company has a quick ratio of 1.39, a current ratio of 1.40 and a debt-to-equity ratio of 0.14. Formula Systems has a 1 year low of $32.55 and a 1 year high of $43.90. The firm has a market cap of $619.08 million, a P/E ratio of 23.60 and a beta of 0.83.
A hedge fund recently bought a new stake in Formula Systems (1985) stock. Jane Street Group LLC acquired a new position in Formula Systems (1985) Ltd. (NASDAQ:FORTY) during the fourth quarter, according to its most recent filing with the Securities and Exchange Commission (SEC). The fund acquired 5,805 shares of the technology company's stock, valued at approximately $207,000. 0.10% of the stock is owned by institutional investors.
About Formula Systems (1985)
Formula Systems (1985) Ltd., through its subsidiaries, provides software, proprietary and non-proprietary software, and software product marketing and support services. The company offers computer and telecommunication infrastructure solutions; computer solutions to computer and communications infrastructures; cloud computing solutions; database and big data services; customer relations management, computer systems management infrastructures, Web world content management, database and data warehouse mining, application integration, database and systems, data management, and software development tools; and professional training courses and advanced professional studies.
Featured Article: Return on Investment (ROI)
Receive News & Ratings for Formula Systems (1985) Daily - Enter your email address below to receive a concise daily summary of the latest news and analysts' ratings for Formula Systems (1985) and related companies with MarketBeat.com's FREE daily email newsletter.