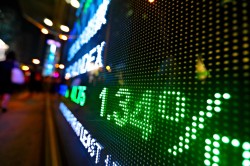 Aptorum Group Ltd (NASDAQ:APM)'s share price hit a new 52-week high during mid-day trading on Wednesday . The company traded as high as $24.96 and last traded at $23.20, with a volume of 385 shares traded. The stock had previously closed at $21.51.
Separately, China Renaissance Securities assumed coverage on Aptorum Group in a report on Tuesday, April 2nd. They set a "buy" rating and a $22.00 price target for the company.
WARNING: This piece was posted by Fairfield Current and is the property of of Fairfield Current. If you are reading this piece on another website, it was illegally copied and republished in violation of US & international copyright laws. The original version of this piece can be read at https://www.fairfieldcurrent.com/news/2019/05/15/aptorum-group-apm-hits-new-1-year-high-at-24-96.html.
Aptorum Group Company Profile (NASDAQ:APM)
Aptorum Group Limited, a pharmaceutical company, develops and commercializes a range of therapeutic and diagnostic technologies to treat unmet medical needs. It focuses on developing various drug molecules and certain technologies for the treatment and diagnosis of human disease conditions in neurology, infectious diseases, gastroenterology, oncology, and other disease areas.
See Also: Cryptocurrencies
Receive News & Ratings for Aptorum Group Daily - Enter your email address below to receive a concise daily summary of the latest news and analysts' ratings for Aptorum Group and related companies with MarketBeat.com's FREE daily email newsletter.